The Continued Rise of Energy from Waste Plants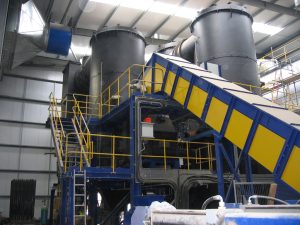 2010 was a big year for us here at The Rabbit Group. We launched an energy from waste facility, featured in the Sunday Times and won the Green Business Award at the Worthing Business Awards. In 2011 we were also 'highly commended' in the Green Business category of the Adur & Worthing Business Awards.
Here is what Doug Stewart, CEO of Green Energy UK had to say at the time:
"To be able to produce renewable electricity with no emissions for up to 10,000 homes is a remarkable achievement. We are extremely proud to be able to make Rabbit Group's electricity available to homes and businesses. The Rabbit Group has shown tremendous foresight and a project like this helps the Government in its effort to reduce national emissions.'
We have put together a guide on how waste at The Rabbit Group is converted to energy, please click here to find out more.
The Rabbit Group have come a long way since then. On average we have diverted 60,000 tonnes of local unwanted material from landfill each year, which is enough to power 8,000 homes.
In 2009, 26.5m tonnes of rubbish were sent to landfill in the UK and about 60% of household waste was buried in the ground, according to EU data agency, Eurostat. Thankfully things are improving. A recent government report confirmed that the disposal of local authority managed waste into landfill and incineration has fallen 44% since 2001/02, down to 14.0 million tonnes in 2012/13.
With a rising concern for the environment, energy from waste continues to get a lot of attention in the press and interest from the public. We have been very pleased to see a continued rise in the number of energy from waste power plants being launched in the UK.
Click Green recently reported that a £244 million rail interchange and energy recovery centre is to be developed with support from the UK Green Investment Bank. The completed facility in South Gloucestershire will convert up to 300,000 tonnes of residual household waste into energy every year. Producing enough electricity to power the equivalent of 50,000 homes and save more than two million tonnes of CO2 over the duration of the contract.
In London, Southwark Council have also joined forces with Veolia Environmental Services to launch the first energy from waste district heating network. 8,000 tonnes of carbon emissions per year will be cut, which is the equivalent of taking 2,700 cars off the road. The innovative scheme will see tonnes of rubbish from Southwark homes transformed into heat and hot water this winter.
Councillor Barrie Hargrove, Southwark Council cabinet member for transport, environment and recycling, said: "We are proud to be leading the way with our partners, Veolia, in providing alternative options to heat generation. We've taken on today's current challenges around rising gas prices and high carbon emissions head on with this innovative scheme."
Our feature in the Sunday Times in December 2010 was an early sign of the growing interest in energy from waste conversion and we are proud to have played a vital role in its development.
We look forward to reporting on any future developments for a new EFW generation as we brace ourselves a growing focus on energy from waste in 2014. Please don't hesitate to contact us if you have any questions.