The Need for Responsible Wood Waste Disposal
In an era where sustainability is more than just a buzzword, the need for responsible wood waste disposal is greater than ever. While many of us are conscious about recycling our plastic, glass and metal, what happens to wood waste often slips under the radar. In this article, we'll discuss various methods for disposing of wood waste and introduce you to Rabbit Skip Hire's wood-only skip as the most eco-friendly and efficient choice available.
What Constitutes Wood Waste?
Wood waste can come in many forms and includes a variety of wooden items and materials. Tree branches, logs, twigs, old wooden furniture without upholstery, timber and plywood all fall under the category of wood waste. Understanding what constitutes wood waste is essential for responsible disposal.
Common Misconceptions: What Isn't Wood Waste
It's also important to note what doesn't qualify as wood waste. Materials that people commonly mistake for wood waste include:
Composite materials like MDF (Medium Density Fibreboard) or particle board, which contain adhesives and resins
Wooden items with attached metal, glass or upholstery
Treated wood that has been painted, varnished or stained
Being aware of these distinctions helps ensure that you're disposing of your wood waste in the most environmentally responsible manner.
How to Dispose of Wood Waste: Your Options
Can I Put Wood in General Waste?
Yes, you can put wood waste in your general waste bin, but it's not a recommended practice. The main reason is that wood waste takes up valuable space in a bin that already has limited capacity for household or business rubbish. With many general waste bins shrinking in size, this makes them ill-suited for handling large or bulky items like wood.
Skip hire is a more convenient and effective solution, particularly when you're dealing with large volumes of wood waste. Skips are designed to accommodate such materials and can handle considerably more waste than your average general waste bin. By opting for a skip, you streamline the entire disposal process, saving both time and effort.
Where to Dispose of Wood Waste: Local Council Recycling Centres
Local council recycling centres are an option for disposing of wood waste, but using them comes with a plethora of inconveniences that many people would rather avoid. While it may seem like a cost-free solution, there can be restrictions on the types of wood accepted, as well as limits on the volume you can dispose of. Furthermore, you'll likely need to make multiple trips in your car, which not only takes up time but also contributes to your carbon footprint.
Weekends and peak hours often see long queues at these centres, making what seems like a quick trip a time-consuming endeavour.
We find that our mini skip hire provide a much more convenient and efficient solution for both households looking to dispose of wood waste responsibly. For large commercial skip hire projects, our roll-on roll-off skips are ideal.
What to Do with Waste Wood: Garden Waste Bins and Their Limitations
Some local councils offer a designated garden waste bin, albeit usually for an annual charge. However, these bins have specific limitations, not least of which is that they are intended for garden waste, such as hedge trimmings and lawn cuttings, rather than wood.
Collections for these bins are also less frequent compared to regular household waste collections, making them a less convenient option if you have immediate disposal needs. Furthermore, garden waste bins typically have a limited capacity of 240 litres, which pales in comparison to the volume a skip can hold.
While you might be tempted to dispose of wood waste in these bins, doing so is generally not advisable. Most councils do not accept large pieces, treated wood or any wood that has been painted or varnished. As such, garden waste bins are not the most practical or cost-effective solution for wood disposal, particularly for larger projects, as they aren't very big or varied types of wood.
For specific guidelines on what you can and can't include in your garden waste bin, consult your local council's website for more information.
How to Recycle Wood Waste: Rabbit Skip Hire's Wood-Only Skip
The Green Credentials: From Waste to Renewable Energy
When you choose a wood-only skip from Rabbit Skip Hire, you're not just getting rid of waste; you're contributing to a renewable energy initiative. Your wood waste finds a second life at Rabbit's Energy From Waste facility in Lancing, West Sussex, where it's converted into green electricity.
What Makes This Option Stand Out: Benefits Over Other Disposal Methods
Compared to other disposal options, our wood-only skip offers unparalleled convenience and eco-friendliness. By segregating your wood waste, you're directly contributing to a greener environment. Moreover, we offer special discounted rates for our wood-only skip hires to encourage sustainable practices.
We offer wood-only skip hire in various sizes.
Key Considerations When Hiring a Wood-Only Skip
The Importance of Exclusively Filling the Skip with Wood
While it may seem like a minor detail, the integrity of a wood-only skip depends on its contents being just that – only wood. Introducing other types of waste into the mix can interfere with the specialised machinery used for wood waste processing. Thus, it's not just a matter of compliance, it's a matter of ensuring that the wood waste can be safely and effectively converted into renewable energy.
Consequences of Mixing Other Waste: Safety and Compliance
Fulfilling our promise of a sustainable, eco-friendly wood disposal process involves more than just the efforts of Rabbit Skip Hire; it requires the cooperation of our customers as well. Skips filled with mixed waste undermine the efficacy of our waste processing systems and potentially delay the conversion into renewable energy. Moreover, any anomalies in the waste could necessitate extra sorting steps, driving up costs and reducing operational efficiency. Therefore, should a skip be found to contain materials other than wood waste, it may result in additional charges or fines as a consequence for non-compliance.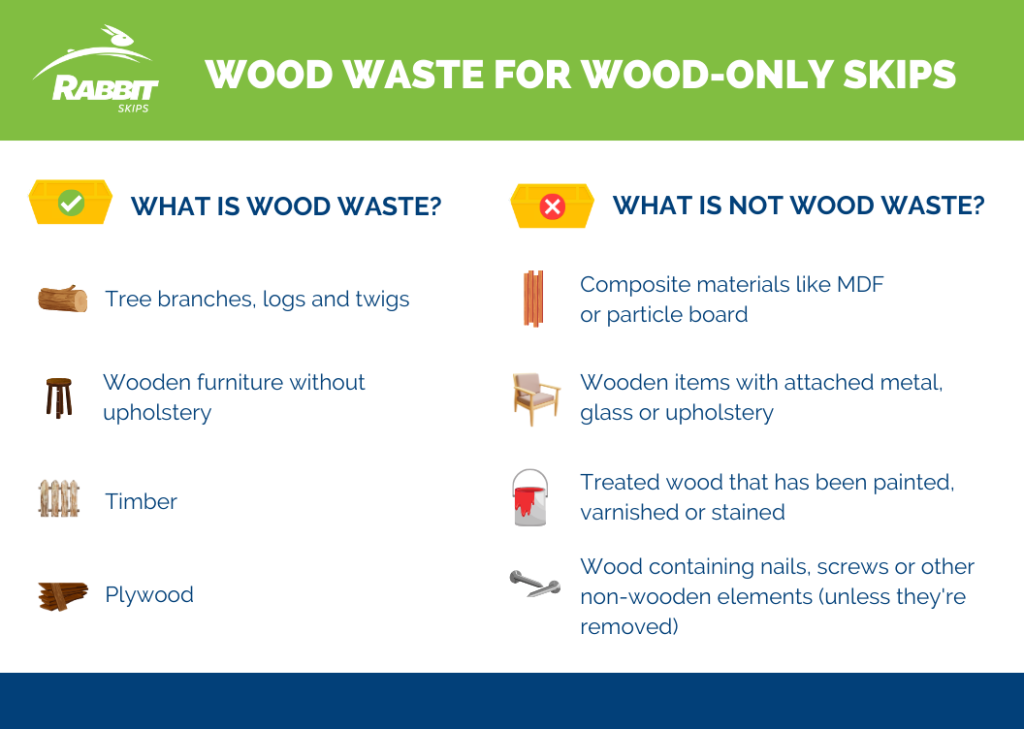 Ideal Scenarios for a Wood-Only Skip Hire
Home Projects: From Old Sheds to Garden Makeovers
Taking on a home project can be exhilarating but figuring out what to do with the waste generated can be daunting. This is where our wood-only skip shines. From the simple disposal of an ageing shed to a comprehensive garden makeover, there's a broad range of domestic projects that generate a significant amount of wood waste.
Why Choose a Wood-Only Skip for Home Projects?
Opting for a wood-only skip isn't merely about disposal – it's about responsible recycling and energy generation. Unlike a general waste skip, a wood-only skip ensures your waste contributes to renewable energy production. Plus, it can be a more cost-effective solution as wood-only skips often come with special discounted rates.
Benefits Beyond Disposal
In addition to being eco-conscious, using a wood-only skip from Rabbit Skip Hire is a convenient way to handle your home project waste. No need for multiple trips to the recycling centre or sorting waste on your own; we take care of it all. With a timely delivery and collection service, you can focus on your home project, leaving the waste management to us.
Commercial Applications: Ideal for Construction and Renovation
The construction and renovation industries often produce vast quantities of wood waste, ranging from off-cuts of timber to disused wooden fixtures. The wood-only skip from Rabbit Skip Hire offers a practical solution for businesses who aim to be more sustainable in their operations.
Why Opt for a Wood-Only Skip in Commercial Settings?
Choosing a wood-only skip isn't just a responsible environmental choice; it also makes excellent business sense. Focusing on a single waste stream like wood allows for efficient disposal and recycling. Plus, segregating wood waste can improve the sustainability credentials of your business, a feature that is increasingly valued by clients and stakeholders.
Streamlined Operations and Convenience
Time is money, especially in commercial settings. Utilising a wood-only skip means you won't have to sort through mixed waste or make multiple trips to a recycling facility. Rabbit Skip Hire provides a hassle-free service, right from delivery to collection, allowing you and your team to concentrate on what you do best – building and renovating.
Conclusion: Making the Responsible Choice for Wood Waste
Summary and Final Thoughts
When it comes to wood waste disposal, making the right choice impacts not just you but also our environment. Rabbit Skip Hire offers an eco-conscious, convenient and cost-effective solution with our wood-only skip hire service.
Choose Rabbit Skip Hire's Wood-Only Skip for Your Next Project
Contribute to a sustainable future by opting for our wood-only skip for your next wood waste disposal project. To learn more and take advantage of our special rates, get in touch with us at 01903 762020.
Rabbit Skip Hire:
Rabbit Skip Hire is an established and expert supplier of skips for commercial and domestic projects of all sizes throughout East and West Sussex.
To find out more about Rabbit Skip Hire's reliable and expert skip hire contact our expert and friendly team on 01903 762020, email info@rabbitgroup.co.uk or fill out our online skip hire contact form.
Rabbit Skip Hire is part of The Rabbit Group of companies, which includes Rabbit Demolition, Rabbit & Dowling Plant Hire and Rabbit Toilet Hire.