What Can & Cannot Go in a Skip?
Hiring a skip means no more countless trips to the dump and it's an excellent way to ensure your waste is disposed of in the most environmentally friendly way.
But, if you haven't hired a skip before, you may not be aware that there are certain things you can and, more importantly, can't put in it and it's crucial to be fully in the know about what they are before your skip is delivered.
Putting the wrong things in a skip can lead to the hire company being unable to take it away. This is because certain items must be recycled or disposed of in specific ways, or they can pose a risk of extreme danger, making them unsuitable for a skip. For this reason, you should always carry out some careful analysis of what sort of waste you'll need to dispose of to avoid problems and potentially having to remove items from your skip before it can be taken away.
To take the guesswork out of what can and can't go in a skip, use Rabbit Skip Hire's handy guide. But, if you can't find the answers you need, get in touch with a member of our friendly team - we're always happy to help and advise where we can.
What can you put in a skip?
It's vitally important to assess the type of waste you have and check if it is suitable to put in a skip before you hire one.
The simple answer to the question as to what you can put in a skip is most household and garden waste. But to help you be certain, here's Rabbit Skip Hire's handy list of what can go in a skip:
Wooden furniture and kitchen cabinets
Fencing and decking
Paper and cardboard
General household waste
Garden waste including all types of wood and soil
Old bikes & scooters
Scrap metal
Plastic furniture
Pottery and ceramics
Bricks, tiles concrete, plaster and rubble
Carpets, textiles and flooring
Clothes and shoes
Metal and plastics
Remember, if you still aren't sure, then contact our Sussex skip hire team who are always ready to offer advice and guidance.
If you're looking to dispose of only wood waste, Rabbit Skip Hire now offers a dedicated skip service tailored to your needs. We've expanded our offerings to include various sizes, ensuring there's a perfect fit for any volume of wood waste. Dive deeper into this eco-friendly initiative and explore all the available options on our wood waste skip hire page.
What can't go in a skip?
While most things can go in a skip, including garden waste, building rubble and even the kitchen sink, there are items that definitely can't. These are:
Old Plasterboard
Environment Agency rules are in place to ensure the safe disposal of plasterboard, which can emit dangerous gases when it breaks up. For this reason it is classed as hazardous waste and is banned from landfill sites. (We can, however, provide dedicated plasterboard skips for safe transfer to specialised plasterboard recycling plants).
Paints, Solvents and Chemicals
Many paints and solvents contain dangerous and toxic chemicals which can be extremely harmful to health, as well as the environment. This also includes household items, such as bleach. If you do wish to skip the containers that these substances come in, they must be washed thoroughly first.
Electricals
This includes household items, such as TVs, fridges, microwaves and ovens. Many electrical items contain all kinds of nasty chemicals and radioactive substances, which can be harmful to health and the environment, if they are released into the atmosphere. Instead these items must be taken to a Waste Electrical and Electronic Equipment (WEEE) certified centre or an electrical recycling point.
Old tyres
It is illegal not to dispose of old tyres in the correct way, because of the harm they can pose to the environment. The Tyre Recovery Association will help you find a local tyre collector or they can be taken to recycling centres, although there may be a limit on how many you can take there and you may be charged. The good news is that often when you have a tyre changed, the garage will dispose of your old one for you.
Clinical and Medical Waste
It may seem fairly obvious, but clinical and medical waste must be disposed of in a very specific and separate way to general waste. This is because it can cause very serious infections and disease to spread, as well as the contamination of soil and water sources. It is extremely hazardous to dispose of this kind of waste in a skip.
Asbestos Products
Asbestos was originally used in the construction of buildings before the year 2000. Since then it has become widely known that, if disturbed and allowed to get into the air, asbestos can cause life threatening health problems for anyone who breathes it in.
For this reason, it is no longer used in construction. Additionally, asbestos risk assessments must be carried out before any refurbishment of older buildings takes place and, once identified, it must be removed and disposed of by trained experts.
Batteries
Batteries contain highly toxic chemicals and dangerous metals, which can cause serious pollution, environmental and health hazards. They can also pose a significant fire risk, if allowed to get mixed in with materials that are to be incinerated. High temperatures can lead batteries to explode, causing rapid fires to break out and serious, widespread damage to occur.
Gas Cylinders
In the same way as batteries can cause explosions and fire, so can gas cylinders. This is because some of the highly flammable gas originally in the cylinder could still be present as residue. Skip companies do not have a licence to handle this kind of waste, because of the potential for serious fires to occur. They should be disposed of at a licensed waste management facility.
Flares or Fireworks
Again, fireworks can be highly flammable and cause extensive fire, if exposed to high temperatures. Also, the chemicals contained within them can be extremely harmful to the environment. For these reasons, flares or fireworks cannot be placed in a skip.
Persistent Organic Pollutants (POP) Items
Due to new legislation, we can no longer accept mattresses or items of domestic upholstered seating (sofas, sofa beds, armchairs, beanbags, sofa cushions, etc) in our skips, as they contain Persistent Organic Pollutants (POP). The materials contained within these items can be extremely harmful to the environment and must be disposed of in a specific manner. Items not suitable for reuse can be disposed of through your local Household Waste Recycling Centre (HWRC).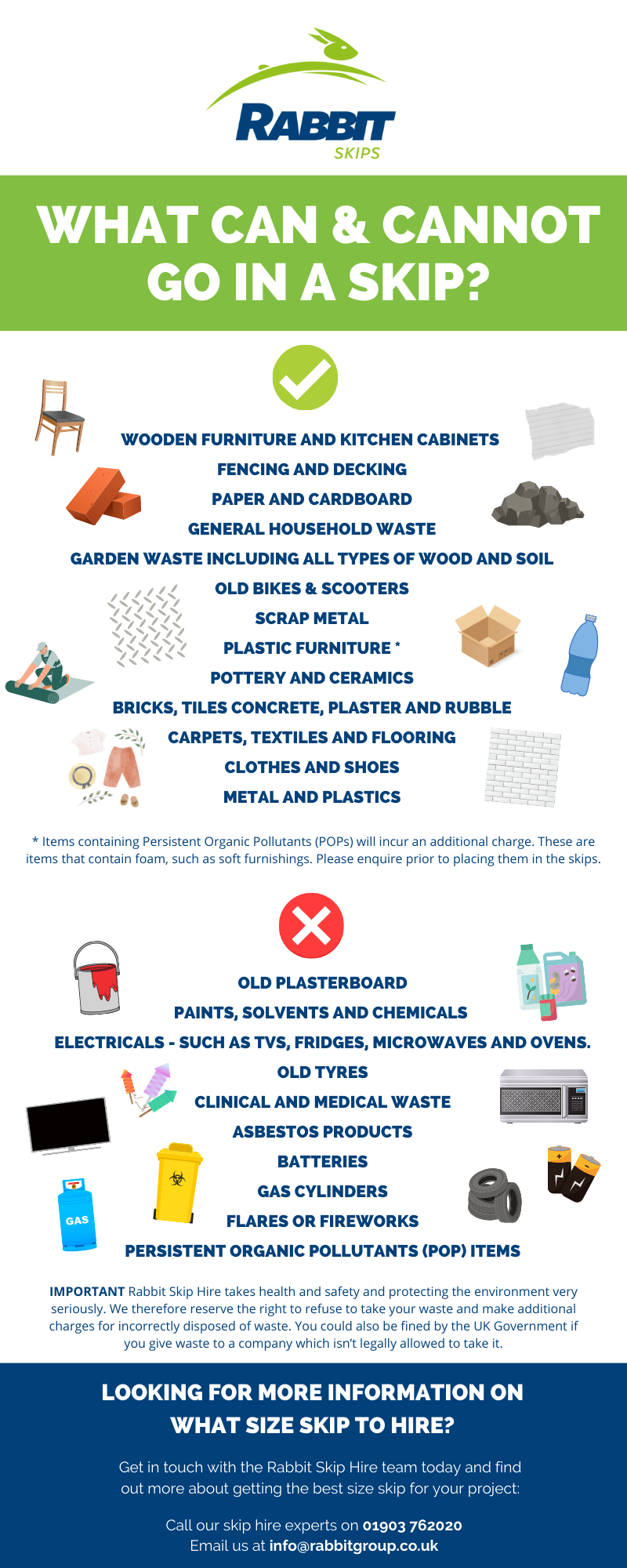 Penalties associated with putting non-allowable items in a skip
We take health and safety and protection of the environment very seriously at Rabbit Skip Hire and for this reason we reserve the right to make additional charges for incorrectly described waste.
Please do not place the waste types mentioned above in the containers as we cannot process them. Their inclusion may pose a hazard to our operators and may be illegal.
Waste containing any of these materials will not be transported. Hazardous materials found in the waste will be returned to site. Any additional handling/transportation for doing so is chargeable.
You can also be fined by the UK Government if you give waste to a company which isn't legally allowed to take it.
How to get rid of items that cannot go in a skip
Items that cannot go into a skip have their own methods of disposal which is carried out by experts in this particular field. Electrical equipment, such as fridges, freezers and televisions should go to your local Household Waste Recycling Centre, for example, while batteries must only go to a recycling centre which accepts them.
Hazardous waste must be disposed of using the relevant hazardous waste disposal service and the same applies to clinical waste disposal.
Need more information on hiring a skip?
Still wondering what you can put in a skip? Get in touch with the Rabbit Skip Hire team today.
Ready to hire your skip now?
You can quickly and easily book your skip hire using our online booking system.